Silver flat electrodes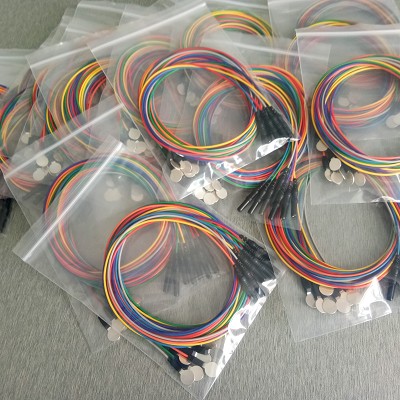 These sensors are strong! We added a ballistic wire for strength. This adds a tensile strength greater than 10kg. (Over 22lbs of pressure before breaking)

Our 72" Silver flat sensor paddles are 99.99% stamped silver with a 1.5mm no touch DIN solid barrel connector.

We utilize a cord stress relief grip which covers the connection from the Silver flat sensor paddle to the conduction wire. This molded piece minimizes internal wire movement, and provides a seal against moisture and corrosion.

Internally our sensors are made of Silver plated copper wire, with foil sheathing.

The conductor wire is constructed with silver plated copper strands and a spiral foil shield to help keep our signals as interference free as possible.



The outer sheath is TPU (Thermoplastic Polyurethane), a high performance cable jacket, that provides excellent retention strength. This means that the wire has more shape memory than most available wire jackets— it will pop back into its original shape easily. TPU in general has excellent abrasion, oil, and chemical resistance making it suitable across a wide range of applications and environments.